Dear Parents, Boys and Girls,
(a copy of this letter has been sent by email also).
Hello everyone and I hope you are all staying safe and keeping well!  Parents thank-you all for the effort and hard work with your children this week. It is great to see how well Seesaw is working. Boys and girls, I am delighted to get your recordings and photographs, each day. It is a great way for me to see how you are progressing with the work I have set and of course I love to see your faces and hear your voices too. Please  try to stick to the plan of work for each day,  as much as is possible.  I have been in contact with parents and I know that for some they find it easier to do a few days work together and that is absolutely fine.  
At the beginning of each  new week (Monday), I have decided to remove any items covered/completed for the previous  week from Seesaw.  I feel that it will be easier and less confusing for everyone, if only the activities for each relevant week are visible. 
Although I have received work from most children, I have had no contact or interaction from some and I would like to emphasise how important it is for your child to engage with home schooling and remote learning.   It will be much easier for children to re-engage with our curriculum  on our return to school, if we are all on the same page.
When sending the photographs of the work on Seesaw, please make sure that it is rotated the right way around as it is very difficult to turn the laptop and there is no option to zoom in that I have found.  Try your best to take clear photographs of all work. There is a little hand that appears and a rotate circle to turn the work around correctly before sending. It will take a few days for us all to get used to it.  Although, I'm sure the children are already much more advanced at using Seesaw than teacher is.
Each week , I will send a full overview of the work I have set, by email, as I have been doing.  You have already been sent my first fortnightly plan, which includes work for next week. From the following week, I will send work on a weekly basis, rather than on a fortnightly one. If anyone is missing any of the links or worksheets needed please let me know.  I will be attaching recordings of and links to songs, online activities, demonstrations and explanations, work corrections etc that your child will need each week ( via email and Seesaw). It is important that you check these platforms for all relevant material.  When plans have been received, I am on the laptop each day to receive work and help each child out in any way I can. Please do contact me if you need help on any particular activity this week and I will be available.
Important Reminders and Messages for this week !
 Don't forget to send me a photo of your spellings test each week on Seesaw.
Second Class – Don't forget to send me a recording of your Irish Reading via Seesaw, as soon as you are confident reading it.
Any maths answers from mathemagic or worksheets will be available on Seesaw each Friday.
I have recoreded answers for Mental Maths on seesaw.  Be sure to only use these answers to correct your work once it ha all been completed.
From next week, I would love if everyone could pick one of the two stories they read each week from their (Two Little Frogs-1st Class) or (Green Genie – 2nd Class) and record themselves reading it and send it to me via Seesaw.  Recordings of me reading the story and explaining the activities have also been provided on Seesaw.  
Send me a photograph of your Safety Rules Poster and your science work on 'Light' in your hardback copy.
Send me a photograph of your Religion work on 'Choices' in your Religion copy.
Send me photographs of your art work on the winter hat.
Forward all completed work to me, as you complete it, so I can give feedback or offer help if required.
Once again, feel free to let me know any area that was difficult and I will try to adjust it to suit or help you out with any problems you have.   I hope the children felt like they have had a sense of school at home this week.
I am looking forward to another week of learning and fun with you all this week.
Thank-You for Your Efforts and Your Continued Support,
Teacher/Mrs Mc Guirk.
I have attached some information on the RTE School Hub which you may enjoy engaging with.  There are also some fun activities you may find useful as well as a list of websites with lots of additional resources and educational games.
Thinking of You All,
Teacher.
X
Below you will find some Additional Activities which you may find useful:
RTÉ Home Schooling Programme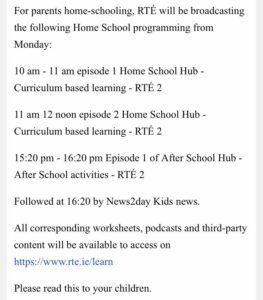 Some Fun Activities.
Go camping in the living room.
Play board games.
Design and go on an indoor treasure hunt.
Set up an in-home nail salon and try some nail art techniques.
Dress up in your best clothes and have a fancy dinner.
Make friendship bracelets.
Make and blow bubbles.  Have an indoor picnic.
Listen to an audiobook or podcast.
Try Cosmic Kids Yoga.
Create your own bingo cards and have a bingo tournament.
Create a family tree.
Learn and play a new card game.
Teach yourself to juggle.
Make a maze on the floor with painter's tape.
Play with sidewalk chalk.
Play indoor volleyball or soccer with balloons.
Have a pizza party
Make paper airplanes and see whose plane flies the farthest.
Play dress up with mom and dad's clothes.
Make your own popsicles or help bake something delicious.
Play "I Spy" inside or out the window.
Facetime or Skype with family or friends.
Have a tea party.
Make some play dough.
Create a nature scavenger hunt in your back yard.
Play "The Floor is Lava."
Snuggle on the couch and read your favorite books.
Rearrange or redecorate your room.
Play in a bubble bath.
Have a pillow fight.
Make an indoor/outdoor obstacle course.
Have a family music night.
Build a giant fort out of blankets, chairs and pillows.
Put on a puppet show.
Make a scrapbook.
Play marbles on the floor.
Do a puzzle.
Create a new dessert.
Put on your bathrobes and play spa day.
Play 20 Questions.
Create creatures out of pipe cleaners.
Make a treasure bottle.
Decorate a T-shirt.
Write letters to family and friends.
Play hangman or tic-tac-toe.
Make a time capsule! One day your kids can use it to tell their kids all about this craziness.
List of Useful Websites
Maths
Barefoot-maths challenge games
Bebras-problem solving games
org-lots of puzzles
maths.org
primary games
Topmarks
Who wants to be a mathinaire?
Countdown
Communication4all
Have you got maths eyes
Scoilnet
Sparklebox
Kinderweb Games
Primary Resources
English/Literacy
worldstories.org.uk
Reading Bears.org (phonics)
Book Trust(online books)-games and activities
org (making wordsearches etc.)
Storyberries (online story books to read)
http://www.readwritethink. (Classroom Resources – student interactive)-(phonics, construct a word, theme poems, picture match)
Topmarks
Tes
Woodlands
Hangman
Crickweb
Primary Games
Primary resources
British Council Kids
sparklebox
Topmarks
co.uk
communication 4 all
scoilnet
visual thesaurus
mystery net kids
photostory
storyboard
animito (making books)
googlelit trips (takes you to places in a story)
scratch (make movies and games)
Literacy Shed – Fantastic for Oral Language Activities
Pobble365-Fantastic for Oral Language Activities
General
Primary Treasure Chest
composers for kids
Woodlands
Sparklebox
co.uk
Communication 4 all
Scoilnet
Primary Resources
Topmarks
Ask about Ireland
Hwb Wales
photostory
storyboard
animito (making books)
googlelit trips (takes you to places in a story)
scratch (makes movies and games)
crickweb
Kidrex
Instagrok – good search engine for various topics
ie (great website for recording history with kids)-go through scoilnet
Irish Newspaper Archive –can view any newspaper article for any date
Britannica (visit schools section)
Adobe Spark (Photos)
Google Cultural Institute
National Geographic Kids
Scoilnet-worldbook –topic resource
Dkfind out –topic resource
Art
Dltk
Activity village
Pinterest
Art Hub for Kids
Irish
An múinteoir .ie
Scoilnet
Teanglann
Scéalta do Pháistí
Seideansí.ie