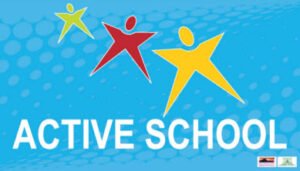 We in Saint Michael's National School
Donaghmoyne Like to Keep Active!!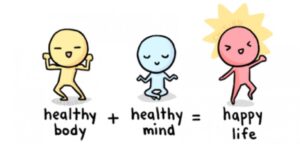 Is fearr an tsláinte ná na táinte.
What is an Active School?
The Active School Flag (ASF) is awarded to schools that strive to achieve a physically educated and physically active school community. The process aims to get more schools, more active, more often.
Schools wishing to achieve the ASF begin the process by self-evaluating their current provision across 3 areas: Physical Education, Physical Activity and Partnerships. Schools must also organise an Active School Week programme and commit to having it as part of their annual school calendar. Schools that can say 'yes' to all of the ASF success criteria will be awarded with the active flag. The flag remains valid for a period of 3 years after which time schools will be invited to re-apply.
ASF is a Department of Education and Skills initiative supported by Healthy Ireland.
Our school website page is dedicated to Our Active School Flag Campaign is packed with lots of the things we have been doing to get our pupils more active!!  See below for an insight into what we have been up to!
Active Schools Committee 2019-2020
Our Active Schools Committee are responsible for helping keep our school body active through lots of different initiatives! See some of their hard work below!!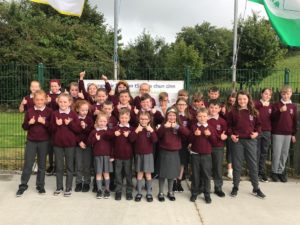 Active Schools Committee 2019-2020
Class
Members
Senior Infants
Jake Martin, Lucy Swinburne
1st Class
Cormac Fox, Joshua Hughes, Grace Martin, Lucy Kate Martin
2nd Class
Calum Kelly, Isobel Mc Mahon
3rd  Class
Kayla Feely, Zara Mc Kevitt
4th  Class
Aisling Mc Ardle, Aoibheann Coughlan, Ryan Cumiskey,

Noah Hughes

5th  Class
All Children in 5thClass
6th  Class
All Children in 6thClass
 We held a design competition which encouraged children to design a poster incorporating a healthy living motto.  Congratulations to

Kiva Martin

who designed what I'm sure everyone would agree is a perfect Active Motto for our school to follow!  We also use our

WOW WALL

to recognize children's achievements both within school and also outside of school!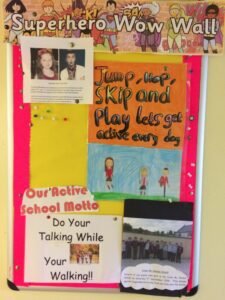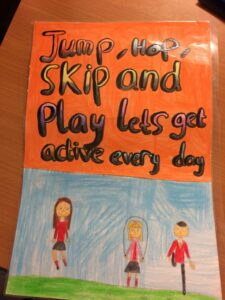 Our Mascot Keep Fit Cormac
Meet our Mascot Keep Fit Cormac who likes to take part in
activities along with our children both at home and at school! Children gets turns to take Keep Fit Cormac home at the weekend and to take a photo of them doing something active with Keep Fit Cormac.  They write about the experience and then add this into Keep Fit Cormac's  Own Personal Journal!  They then share their active experiences with Keep Fit Cormac on their return to school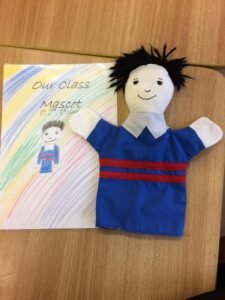 PHYSICAL ACTIVITY IN OUR SCHOOL!
Active Homework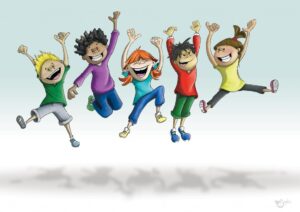 Every Thursday as part of our children's homework, each child completes an active activity!  This is a great way of allowing children to have some fun, while improving their physical health!  It is also an effective method of giving them a short 'brain break' from their studies.
Active Line Leaders
This year we have Active Line Leaders from every class group.  An older child and a younger child choose one exercise to do in front of the whole school when they line up for coming back in after our small break and our lunch break. Leaders select an exercise and then demonstrate how to do it. The whole school then does ten of the given exercise before returning to class!
Active Schools Flag Active Line Leaders 2019-2020
Time
Month/

Job

September/0ctober

 

November/

December

 

January/

February

March/

April

May/June
11.00a.m.

&

1.00p.m.

Everyday

Supervise and Organise Games
September

Tiernan Flanagan

Jake Martin

 

 

October

Eimar Martin

Lucy Swinburne

November

Jessica Mc Mahon

Cormac Fox

 

 

December

Lauren Mc Gahon

Joshua Hughes

January

Alana Mc Kevitt

Grace Martin

 

February

Lucy Mc Ginnity

Lucy Kate Martin

March

Leah Mc Mahon

Calum Kelly

 

April

Cormac Markey

Isobel Mc Mahon

 

May

Conor Dowling

Kayla Feely

 

 

 

June

Kiva Martin

Zara Mc Kevitt

 
*Active leaders select and lead all children in a short exercise in their lines before they return to class
Have a Peek at a sample of some of our daily active line activities!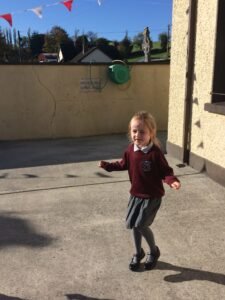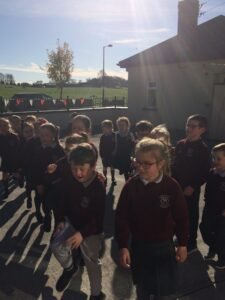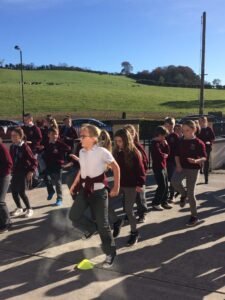 Active Breaks throughout the Day!
Active Breaks, involve the children dancing and participating in various busy break activities throughout the school day, which promote physical activity.  Some of these examples include, Just Dance, Go Noodle Dance, Busy Breaks (e.g. shake breaks and yoga breaks) and 10@10 challenges.  These activities are led by our Active School Team members at break-times and by our teachers during class time.  Ideas for both our Active Breaks and our structured outdoor play are gotten from our pupils through the use of a active ideas box and also from various online resources researched by class teachers.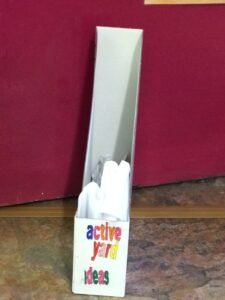 Just Dance Leaders
Leaders
Junior and Senior Infants
Kiva Martin & Molly Rooney
 1st-3rd
Erin Mc Gahon & Lucy Mc Ginnity
4th-6th
Alana Mc Kevitt & Ava Mc Mahon
Active Yard Leaders
This year we have active leaders from fifth and sixth class as we feel they are the most responsible members for carrying out leadership roles in games. Leaders select an active game from a list compiled by the teachers and also from suggestions received from pupils(via our suggestion box).  The games that take place every Monday, Wednesday and Friday are a massive success and it has proven to be a fantastic way of promoting team work among our children and also a way of ensuring that every child gets involved in physical activity. Keep up the great work leaders!  See our Active Leaders below!
Active Yard Leaders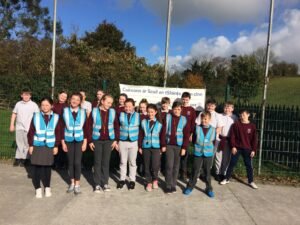 Active Schools Flag P:E Yard Leaders 2019-2020
Class
September-October
November-

December

January-

February

March-

April

May-

June

Infants
Lucy & Erin
Alana & Ava
Erin & Kiva
Molly & Alana
Leah & Erin
1st & 2nd
Kiva & Leah
Aaron & Conor
Caoilte & Conor
Eimar & Lauren
Aaron & Séan Óg
3rd & 4th
Eimar & Lauren
Caoilte & Séan Óg
Lucy & Leah
Cormac & Conor
Lucy & Kiva
5th & 6th
Jessica &Tiernan
Cormac & Molly
Séan Óg & Jessica
Tiernan & Séan Óg
Caoilte & Tiernan
*EQUIPMENT LEADER IS HIGHLIGHTED
*Playground Games will be played on a Monday, Wednesday and Friday.  Leaders pick one game from  the selection and are responsible for setting up that game.
Here are some pictures of our Active Leaders at work indoors and outdoors and also some of our Busy Break or Brain Break activities carried out by our teachers throughout the school day!
Our P.E. Storeroom
Before we began our Active School Campaign, pupils were selected to help tidy our storeroom and sort and label equipment into boxes.  Every Friday children from the Active Schools Committee are responsible for ensuring all equipment is stored and labelled correctly.  They also remove any broken equipment.  These pupils also make a list of equipment and how much of each item there is at the end of the school year.  Any equipment we need is then ordered and replaced accordingly.  It has been great to see all equipment being used by all our pupils in a variety of games and activities.  Teachers are also learning new games ideas that can be incorporated into our P.E. Lessons from the pupils.
Responsible for Equipment each day
*Each Friday the P.E. Store will be cleaned by the children listed above
Walk the Earth
As part of our Active Flag Campaign we pupils and staff are aiming to complete the Malin Head to Mizen Head challenge, which involves walking a total of 678km. This will be achieved by walking laps of our school yard, following various signposts(supplied by the Active School Body). Previously alongside the Monaghan Sports Partnership, we have completed a total of 15, 000 km as a school body, doing laps around our school. 
Active Schools Week 2018
As part of our Active Flag Campaign and to celebrate Active Schools week,  we had a spring Themed Sports Day on Friday 27th April 2018.  These events were supervised by the staff and members of the Active Schools Committee.  All these events were fun and encouraged physical activity in a fun setting! Please have a peek at the wonderful things our children got up to on the day.
List of Activities for Our Easter Sports Challenge.
·

      

Jigsaw orienteering (relay teams find a piece of a Easter Jigsaw Under a Cone and put it back together as a team)
·

      

Fling the egg
·

      

Easter Musical Freeze
·

      

Throw the Easter Eggs in the Baskets
·

      

Bunny Relay (ears and carrots)
·

      

Score past the Easter Bunny
·

      

Follow the Clue to Find the Spring Letter.  Jumble them up to spell the word Spring.
·

      

Pass the egg around the circle (relay)
·

      

Egg and Spoon Race
·

      

Skipping Bunny
Active Schools Week 23rd-27th April 2018-Look at the things we got up to!!
Monday

Tuesday

Wednesday

Thursday

Friday

     Walk Malin to  Mizen Head
  Dance on     Monday
 Active Lines

  Taster Session

Hurling –Aidan Morgan

   Active Lines

Activities with Rosita

 Spring Themed   Sports Event
     Dance on Monday
  Active Lines
 
Maths Week' 18
As part of maths week, children participated in various events associated with the theme of Keeping Active.  Children in all classes participates in active number rhymes with actions.  We continued with our Malin to Mizen head walking challenge.  Mrs Mc Guirk's room participated in number orienteering, passing ball around a circle in a given time, action counting songs and using body parts and measuring implements to measure different distances!  Well done all for your Active Participation!!
Halloween Themed Active Schools Event
On Thursday 25th October 2018 (Day of Our Halloween Holidays), all our children got the chance to dress up for  Temple Street Children's Hospital and take part in various Halloween Themed activities!
Have a peek below to see what they got up to.

  As always, well done to our Active Leaders who supervised and organised our stations!
List of  Activities for Our Halloween Active Event.
·

      

Jigsaw orienteering (relay teams find a piece of a Halloween Jigsaw Under  Cone and put it back together as a team)
·

      

Orange and Spoon Race
·

      

Pass the Pumpkin
·

      

Score past the skeleton
·

      

Spooky Musical Freeze
·

      

Broom Stick Relay
·

      

Name the Witch Hunt
·

      

Wrap the mummy
 Active Advent Calendar
Look at some of the active challenges our children have been doing as part of Our Active Advent Calendar.  Each day of Advent our pupils participate in an active advent activity shown on our  Active Advent Calendar!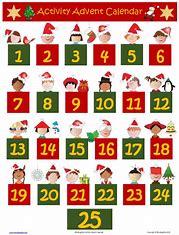 Silly Santa Flash Mob Dance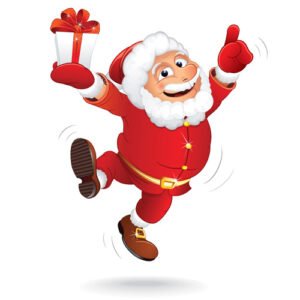 As part of our Active Schools Flag Campaign, on the 20th December 2018, the whole school put on their Santa Hats to participate in a Silly Santa Flash Mob Dance.  We all had fun and pulled some SANTASATIONAL MOVES.  Thanks to the Active Flag Dance Leaders for preparing us and leading us in the dance!
Some of Our Preparations!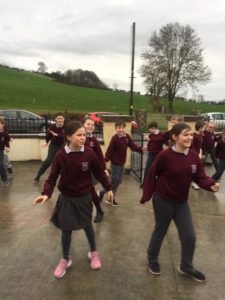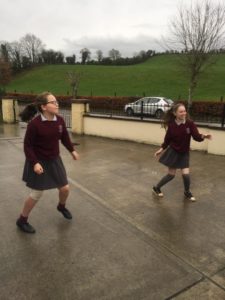 The Grand Finale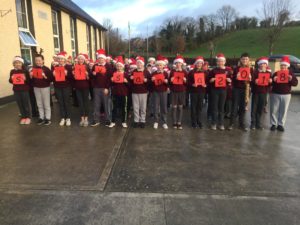 See our school Facebook page for our video!!
Active Breaks for January & February 2019
We as a staff decided to commence the New Year with adding an active break to our daily schedule.  Each teacher decided which activity they would undertake from (running, dance or an exercise break).  We concentrated on this for four weeks.  See below an example of our work!  Well done everyone for your active participation!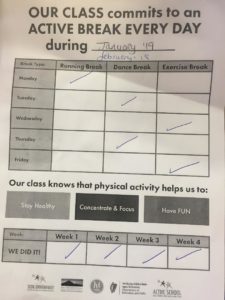 60 Minute Physical Activity Challenge
We also dedicated a total of 60 minutes to physical activity both in school and at home as part of our Active School Campaign. We really have kicked 2019 off to a Healthy Start!!
Trying Out Mini Me Yoga
In December, teachers completed a 'Mini Me Yoga' Foundation course with Natalie Boyle. Today the children in Mrs Mc Guirk's room got the opportunity to engage with yoga in a fun and active, but meaningful way. This is another step towards helping increase the overall mental health and well-being of both pupils and teachers as part of our Health Promoting Schools Campaign and Active Flag Campaign.
Here are some of the many benefits of teaching yoga to kids:
Yoga helps kids to:
Develop body awareness
Learn how to use their bodies in a healthy way
Manage stress through breathing, awareness, meditation and healthy movement
Build concentration
Increase their confidence and positive self-image
Feel part of a healthy, non-competitive group
The children enjoyed their session today and I can definitely see the children reaping the many rewards listed above!
Valentine's Day Orienteering
Today the boys and girls got involved in  a Valentine's Day themed relay!  They got to practice their maths while doing some exercise at the same time!
Active Non-Competitive Running Initiative
This initiative proved successful in our school.  We began our running challenge in March 2019 and have been doing it everyday.  Weather didn't stop our efforts!  We used our walking track for this initiative, running ten laps or  1 km  each day per classroom.  This equated to 3km a day and 15km per week!  Our challenge was to complete 60km in total, within the space of 4 weeks. We tried to do our running after lunch and this kept us awake and alert to complete our afternoon's work. Before and after our run our Active Leaders lead some warm-up and cool-down activities.  The children really enjoyed this initiative and we still get the children out for a jog as part of our active breaks!!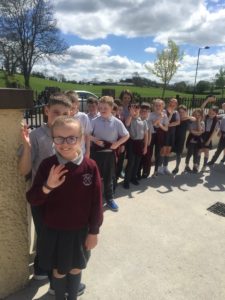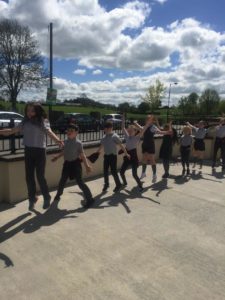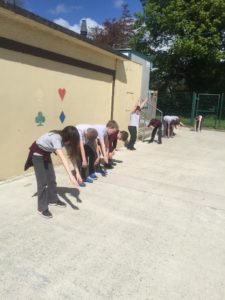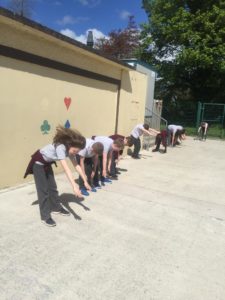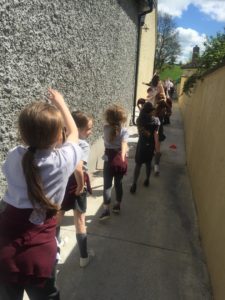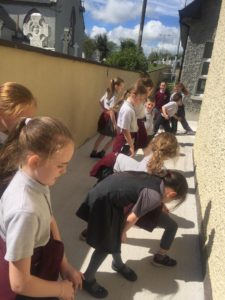 Active Schools Week took place this year in our school between Monday 27th and  Friday 31st of May 2019.  We engaged in many fun active events at school and at home.  All children were encouraged to wear comfortable sports gear and footwear for this whole week.  Have a peek below at some of the events we got involved in.
Active Schools Week 27th -31st May 2019
Monday

Tuesday

Wednesday

Thursday

Friday

Walk a Mile Challenge
Just Dance
Active Lines
Active Breaks
Active Homework

Walk a Mile Challenge
Just Dance
Active Lines
Active Breaks
Active Homework

• Walk a Mile Challenge
• Just Dance
• Active Lines
• Active Breaks
• Active Homework

Walk a Mile Challenge
Just Dance
Hurley Taster
Active Lines
Active Breaks
Basket Ball Coach
Active Homework

Summer Themed Sports Event
Walk a Mile Challenge
Just Dance
Active Lines
Active Breaks
Active Homework
Halloween Active Events 2019
We got active for our Health Promoting Schools Campaign on Thursday 24th October 2019.  We looked terrifyingly good as we did our various circuits.  Well done everyone for your participation and a huge thank-you to all our active leaders for leading the events.
Wellness Wednesday – Covid-19
During our school closure due to Covid -19, we as a staff were very conscious of the impact the virus was causing on our students and whole school community. 
As both a Health Promoting School and Active School, we decided to introduce an initiative called Wellness Wednesday to support children and families in maintaining fitness and mental health! 
Each Wednesday, children and their families were encouraged to get active by choosing an activity from the list of Wellness Wednesday activities provided or doing something active of their own.  See below some of the activities our pupils and families got up to!
Also as part of Wellness Wednesday, we introduced Zoom P.E., were staff, pupils and their families got active each Wednesday by partaking in fun games and exercises, guided by an online coach! To mark the end of our school year, we even held a Zoom Sports Day – which everyone really enjoyed.
PARTNERSHIPS IN OUR SCHOOL!
Have a look at how some outside bodies help in making our pupils more active!
Donaghmoyne 5k Saturday 14th October 17
As a fundraiser and also as part of our Health promotion and Active Flag Campaign students, parents and teachers took part in this 5k event.  We braved the cold and everyone had a fantastic workout!  Well done everyone who took part!!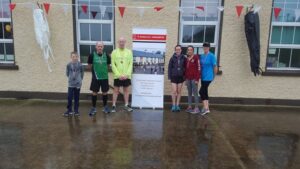 Our senior boys took part in the Aldi Rugby this year. Dedication, hard work and good team play under the guidance of their coaches, certainly had its reward. The boys successfully made it through all rounds of the competition and the ultimate success lay in the team being chosen to play in the Aviva Stadium on 26th April. The highly esteemed Paul O'Connell was present to greet the team and their supporters! This was an astonishing achievement for the boys together with their coaches, families and the school that will be held in high regard for many years to come.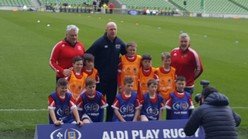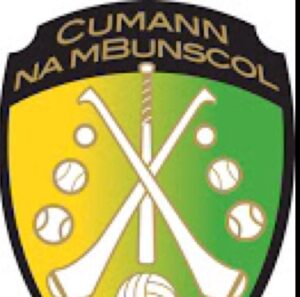 Well done to the boys from Ms Atkinson's class who competed in a Gaelic Football Blitz on Wednesday 3rd October 2018. They won all of their games and  progressed to the final against Deravoy National School on Saturday 20th October in St. Mary's Park, Castleblayney.  The boys produced an outstanding performance of which they should be extremely proud!  They worked extremely  hard and displayed huge efforts.  However, victory on this occasion went to Deravoy N.S. We would like to thank Deravoy for their sportsmanship and we congratulate them on their success.  A massive thank-you to everyone who supported the boys and also to Peter Boylan on his commitment in training the boys.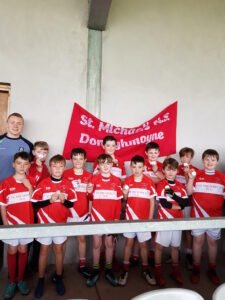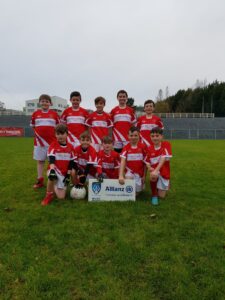 Ulster Final Appearance
Well done to the Donaghmoyne under 12 girls football team who played during half-time at the Donaghmoyne ladies Ulster Final against Glenfinn on Saturday 3rd November 2018. A special word of congratulations to the seven girls from St. Michael's National School who had the opportunity to play.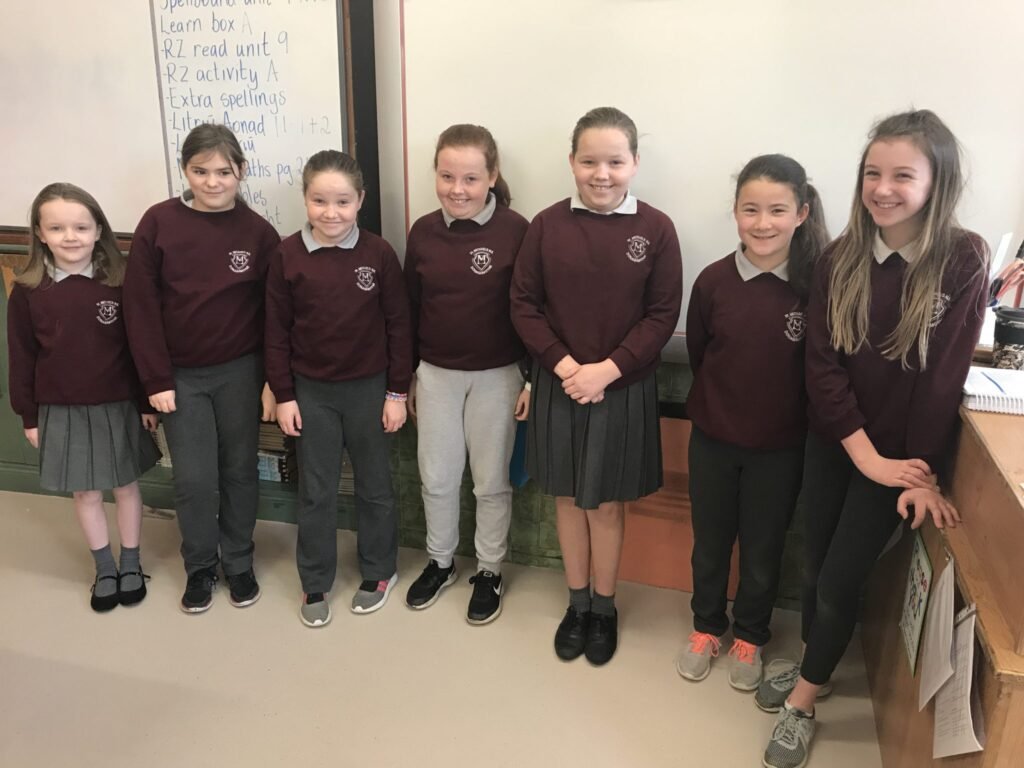 Congratulations to the Donaghmoyne Ladies who defeated their opponents by eight points on the day and have now reached the All-Ireland stage of the competition. We wish them every success!
FAI Soccer Tournament
Congratulations to the children from Ms Atkinson's room who took part in the FAI five-a-side tournament in Gortakeegan on Tuesday 2nd and Thursday 4th April 2019.  Both teams played brilliantly and had great fun on the day.
Kick Boxing Success
On Friday 30th November 2018, the Rooney girls were graded in kickboxing. Annie received her brown belt, Molly received her purple belt and Maggie received her green belt.
Annie and Molly then had a kickboxing fight on Sunday 2nd December, with Annie receiving a silver medal and Molly receiving a bronze.
The girls attend kickboxing classes in Carrickmacross every week and have made fantastic progress over the past few years.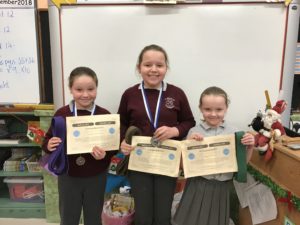 Conor Mc Skeane Memorial Shield 2018
Congratulations to the children who won the Conor Mc Skeane Shield in September 2018. Well done on your fantastic efforts and it is wonderful to see our school competing in this very special and worthwhile annual event.
Gaelic in Our School
Annually, we are very fortunate as a school to get skilled coaches (from Monaghan GAA) into our school to teach all our pupils varying levels of Gaelic skills through the use of fun activities, focusing on the required techniques.
Dance in Our School
2017 & 2018
As part of our Active Flag Campaign we had a dance instructor visit our school and teach dance to our pupils, every Wednesday for ten weeks.  All the children got active in completing various dance moves. Please have a browse at our photos to see our pupils in action. Rosita also got involved in some dancing as part of our Active Flag Campaign.  Thank-You Rosita for teaching us some fantastic moves!
Honored to have an Olympian among us!

 
As part of our Active Flag Campaign we had a very special sports person visit our school on Wednesday the 7th March '18.  Brian Gregan, Olympic Athlete visited, as part of the Sports for Schools Initiative.  All the children got active in completing various circuits and they also learned lots about what's involved in becoming a famous athlete.  Our school also received money towards PE equipment, which we were delighted about.  We have ordered some new supplies and we will definitely be putting them to good use outdoors!  Please have a browse at our photos to see some of the fun activities the pupils got involved in.
A Taste of Hurling
As part of our Active Flag Campaign we invited Aidan Morgan to our school to do a taster session with our pupils. He also kindly offered to return to do another session with our pupils during active schools week 2018.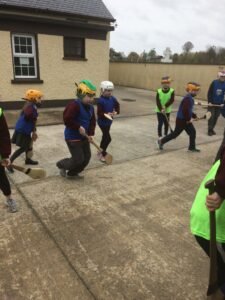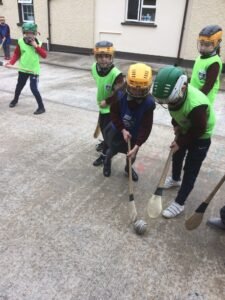 Mini Me Yoga


On the10th December, our teachers completed a  Mini Me Yoga foundation course with Natalie Boyle.  We received lots of ideas for teaching children how to engage with yoga in a fun, active but meaningful way.  We found this course an excellent resource for allowing us the chance to acknowledge each individual child and help them develop a positive self-image. Another step to helping increase the overall mental health and well-being of our pupils and ourselves as part of our Health Promoting Schools Campaign.
Active Flag Initiative 2019
Cavan and Monaghan Healthy Families are running a programme which encourages parents and children to focus on a Healthy Lifestyle in a fun environment.  See below for details of this fun and free initiative.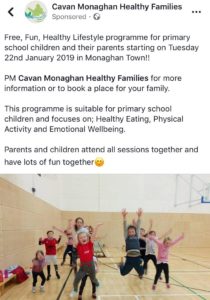 OPERATION TRANSFORMATION DONAGHMOYNE 2019
This is the first year that our Local Community have decided to take on this physical challenge.  It has been organised by the Parents Association of Saint Michael's National School.  We commenced our campaign on Tuesday 15th January at 7p.m.  This will run for a total of eight weeks.  Everyone, even your pets are welcome to come along to this fun and active weekly event. Come along and join us in our walking, jogging and running activities.
Having Fun and Keeping Fit!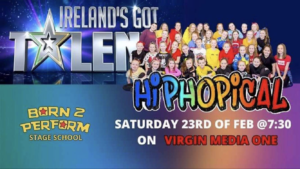 Two of our students Isobel and Grace took part in Ireland's Got Talent as part of the dance group Hiphopical this weekend (Saturday 23rd of February at 7.30pm) on Virgin Media One.
They have progressed to the next stage of the competition and we wish them every success as they continue on their journey!

All-Ireland Success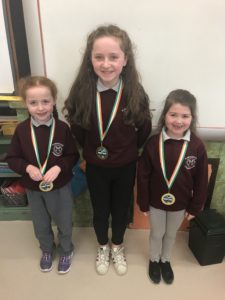 Congratulations to Eva, Isobel and Grace who took part in the All-Ireland Variety Show in Traboolgan, County Cork on Sunday 24th March 2019. The girls took home numerous trophies and came first place overall as part of the 'Born to Perform' stage school.
We are super proud of the three girls!
5K 
Well Done to our pupils, parents and local community who all participated in our 5K. Everyone got active and really enjoyed their walk or run. Have a look below at some of the photographs from the day!
Active School Tour 2019
Staff and pupils gathered together on Thursday 1st May 2019 full of excitement as we set off on our annual school tour.  Our destination was to The Crystal Maze outdoor activity venue in Kilmainhamwood.  The children got involved in several physical, mental, skill and water-based challenges, based around Ireland largest hedge maze. The day was enjoyed by all and everyone arrived home in great form after their fun filled day of activities.
Basketball 2019
During  May 2019, all classes commenced basketball sessions with our coach Enda.  This continued for a total of six weeks. The children really enjoyed themselves as well as developing lots of basketball skills.
John 'The Runner' McGeough One Mile Race
Congratulations to Seán-Óg and Lucy who completed the John 'The Runner' McGeough One Mile Race in Blackhill on Friday 3rd May 2019. Seán-Óg completed the race in 5 minutes 30 seconds, and Lucy completed it in 12 minutes. Both children were quite close to John McGeough's time of 4 minutes 30 seconds.
We are so proud of you both!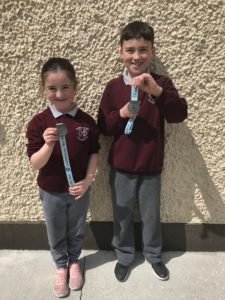 On Tuesday 14th of May 2019 we were very active in our school.  We were fortunate to have Ryan Gaffney (on behalf of Monaghan G.A.A.) with us today to give us a taster in hurling.  The boys and girls had great fun and they also got the opportunity to practice  some hurling skills. See some of the action below!
Community Games 2019
Congratulations to the boys in Third Class on their recent achievement in the Under 10 Gaelic Football Community Games Competition.  The boys reached the County Final and should be very proud of their efforts!!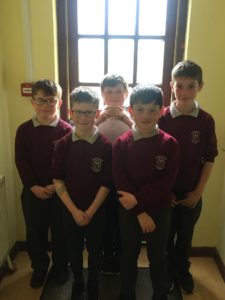 CONOR MC SKEANE MEMORIAL SHIELD 2019
Congratulations to the children from Mrs. Mc Guirk's First Class, who were chosen to represent us at the Conor Mc Skeane  Memorial Shield Football Blitz. Well done on your fantastic efforts and congratulations on receiving your two beautiful medals! It is wonderful to see our school competing in this very special and worthwhile annual event.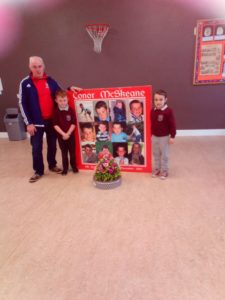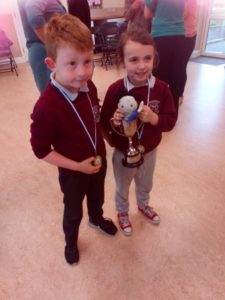 Bike Green June 2019
On Friday 21st June 2019, we were very fortunate to be offered a free taster session from Bike Green by the Monaghan Sports Partnership.  Junior Infants, Senior Infants and First Class got to learn many valuable cycling skills, using balance bikes.  A massive thank-you to Seán and Francis for coming to visit us today and providing the children with this fantastic opportunity!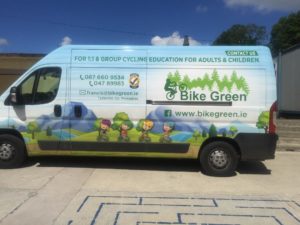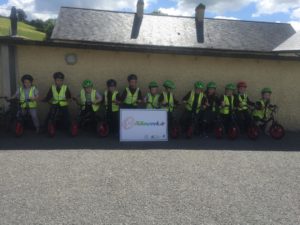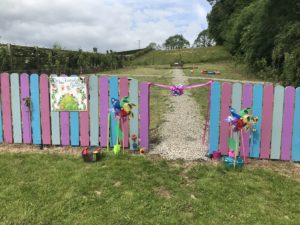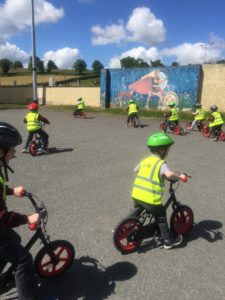 Soccer Coach September-October 2019
Our children continue to focus on Health Promotion and continue to practice our Active Flag Initiative as they take part in soccer skills with Euan Treanor during September and October.  Have a look at some of their activities below!  Thanks to Euan for visiting our school and sharing his knowledge and expertise with us.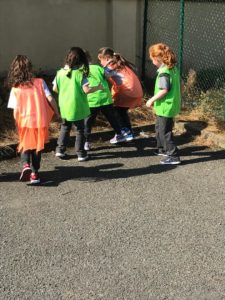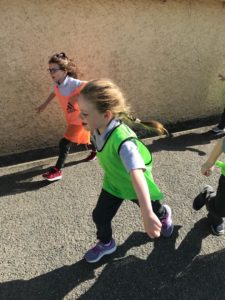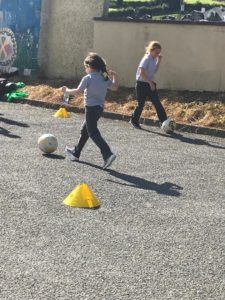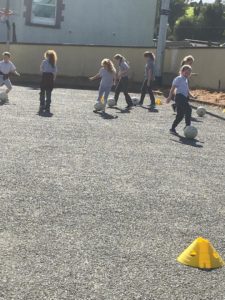 Relax Kids in Saint Michael's National School Donaghmoyne!
The children in our in our school really enjoyed their first session of Relax Kids on Thursday 30th January 2020 and are excited about their next class.
The sessions are aimed at primary school children and run in 6 week courses.
They involve warm up and movement, relaxing mindfulness games, stretching and breathing exercises, massage, affirmations, storytelling and visualisations.
The sessions will take children from high energy to low energy and encourage them to relax while developing their creativity and imagination.
Each session will have a theme and your child will go on a different adventure each week, from pirates to outer space to wizards. The sessions not only enable your child learn the beautiful art of mindfulness but also equip them with tools to deal with stressful situations and anxiety, building their emotional resilience and self esteem along the way.
A huge thank-you to Olivia Monaghan for coming and teaching our children such wonderful skills, in such a fun and meaningful way.
PHYSICAL EDUCATION IN OUR SCHOOL!
The Physical Education (PE) is for children from junior infants to sixth class. The curriculum contributes to children's overall development by helping them to lead full, active and healthy lives.
The PE curriculum provides a balanced range of activities for children through the six strands:
•Athletics
•Dance
•Gymnastics
•Games
•Outdoor and adventure activities
•Aquatics.
The current curriculum was introduced as part of the Primary School Curriculum (1999).  Here in Saint Michael's National School we aim to provide a balance PE Programme, contributing to the overall development of the child.
 School

s have long been viewed as important settings for the socialisation of children, thereby influencing their health and social development. Educational outcomes are a recognised determinant of both child and adult health, consequently schools have both an immediate and longer-term influence on children's well-being. In recognition of this role, the concept of the HPS was first proposed.  Offering PE is essential to promoting physical, social, emotional and mental health in children and helping in developing a holistic child. Saint Michael's National School have embraced becoming an Active School in order to provide this opportunity for all our pupils.
As a staff we have looked at several different areas in order to improve our approaches and knowledge in the area of PE education, some of which are detailed below.
Planning:
A survey was carried out among parents, staff and pupils to evaluate areas of strength and weakness in the area of PE.

As a staff we revised our current PE Whole School Plan and had it ratified by the Board of Management in the academic year 2018 -2019 (Above surveys were used to revise the whole school plan).

We introduced the PAWS Programme in all classes as an alternative to the aquatics strand.

We have introduced using the WALT(We are Learning to) and WILF(What am I looking for) into our PE Lessons as forms of assessment.

A WOW Wall was introduced to acknowledge children's sporting achievements, both inside and outside of the school.

Self Evaluation: 
We have chosen Physical Education and Well Being as our area for Self Evaluation (September 2018-June 2021).
PDST(Professional Development Services for Teachers)
In the Academic Year 2018-2019 we as a staff engaged in CPD with the PDST in the areas of gymnastics and orienteering as we felt these were two areas that we could improve on.
Active Flag Initiative
As part of our Health Promotion Campaign and to improve the overall physical, mental, emotional and social education for our pupils, we decided to join the Active Flag Initiative in October 2017.  Lots more information on this Initiative can be viewed on

www.activeflag.ie 
Resources
PSSI (Primary Schools Sports Initiative) -Lessons for all strands and age levels are used to inform and teach PE.

Membership to Irish PE Association- Provide a wealth of PE Ideas across all strands, Information on ongoing PDST Training in different areas and links to sites with lots of lesson plan ideas (e.g. PSSI and PDST Lesson ideas from workshops and Move Well, Move Often Lesson.

Monaghan GAA-We are delighted to receive annual coaching sessions from Monaghan GAA.  Our pupils always look forward to these sessions and they learn valuable skills in a fun way! Our teachers also gain a wealth of knowledge by watching these lessons.