Health Promoting Schools(HPS)
Year 1 of Our Health Promoting Schools Campaign

A Health Promoting School can be characterised as a school which is constantly strengthening its capacity as a healthy place in which to live, learn and work.


We have begun our journey towards becoming a Health Promoting School. This journey began in March 2016 in conjunction with our health promotion officer Jennifer Treanor and our first aim in striving towards receiving Health Promoting School recognition was to work on Healthy Eating within our school and review our Healthy Eating Policy. Our new Healthy Eating Policy was ratified in June and is now available for all to view on our School Notice Board. We hope all parents, staff and pupils will embrace our new Healthy Eating Policy with a view to our school becoming a healthier and happier environment for all and that they will continue to embrace this into the future. Some of our starter and ongoing activities can be viewed below. Our Health Promoting Team are key components in striving towards making our school a healthier and happier environment for everyone!
Our Health Promoting Schools Committee!!
Health Promoting Schools Committee 2019-2020
| | |
| --- | --- |
| Job | Members |
| Chairperson | Jessica Mc Mahon |
| Assistant Chair | Lucy Mc Ginnity |
| Secretary | Tiernan Flanagan |
| Assistant Secretary | Eimar Martin |
| Parent Reps | Pauline Feely, Amy Rooney |
| Co:Ordinator | Mrs. Mc Guirk, Ms Whelan |
| Principal | Ms Whelan |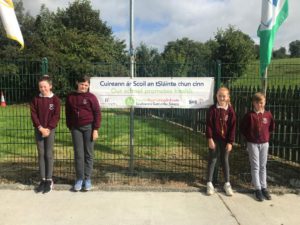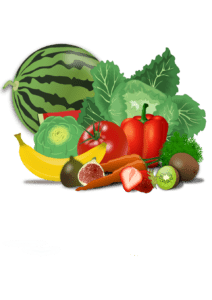 Healthy Eating!
As part of our Healthy Eating Promotion and our Irish Lessons, children got the chance to eat a healthy breakfast in school 'as gaeilge'.  Our Health Promoting Team continue to monitor the eating habits of the pupils in our school. Each class has appointed junk detectives to remind children of healthy eating Monday to Thursday, allowing for a small treat once a week on a Friday. Once a month a member of the team discretely does a lunchbox spot check to see that everyone is doing their best to eat healthily. We also choose one person a month from each class who has made a special effort to bring in a healthy lunch. Their names are displayed in our school each month.  Literature and Newsletters are constantly sent out, providing parents with information on maintaining a balanced diet, providing parents with tips for healthy lunches and meals and also information on recommended portion sizes and daily dietary requirements for both adults and children. Our committee members have surveyed children on the most popular treats they eat and from that have compiled a Sugar Display Chart-highlighting the amount of sugar in those foods. They regularly visit the rooms to remind children of these 'sugar-rich' food. They also bring food props to our classrooms-showing children what portion sizes look like for children and adults alike.  This gives a child a better idea of how much they should be eating each day.  A suggestion box is also available for children to post suggestions of any healthy lunch ideas they may be able to provide!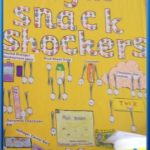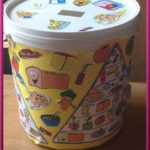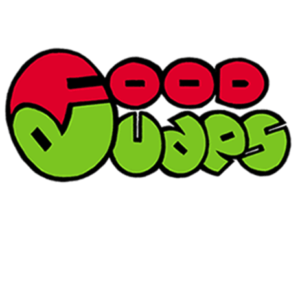 Food Dudes is a programme developed by the University of Wales, Bangor, to encourage children to eat more fruit and vegetables both in school and at home. It is based on positive role models (the Food Dudes characters), repeated tasting and rewards. For the second time in May 2016 our children participated in this programme, tasting a variety of fruit and vegetables and receiving some wonderful awards for their efforts.  Children got to taste foods they hadn't eaten before and  experiment with trying out some new ideas for healthy snacks.
 
Power Pedal Cinema!!
Our staff, pupils and parents got active today and took part in our powered pedal cinema event.  Everyone worked hard to keep the film going and everybody enjoyed the show immensely.  Our Health Promoting team were also on board to distribute healthy eating documentation and explain about portion size with the use of various food props.  A Great job all round!! Well Done!!
Incredible Edibles is a healthy eating initiative for Primary School pupils. It encourages schools across the country to get busy growing carrots, lettuce, potatoes, strawberries, turnips and herbs. Schools are supplied with grow packs containing everything they need to grow a veritable feast of healthy foods!
Ms Atkinson's class were very lucky to be taking part in this initiative this year. They  planted  seeds in early March 2019, so it is now just a matter of waiting for nature to do its job!
Oral Hygiene
On 8

th

March '17 Maureen Mc Inearney visited our school to train our staff on the importance of oral health for children.  Staff completed a course to equip them with the skills necessary to teach children about how necessary it is for them to look after their teeth and gums.  Parents also received a lesson on oral hygiene in a workshop provided by Maureen.  Everyone learned about the importance of correct teeth brushing and a healthy diet to ensure a healthy smile.  Children received certificates and oral hygiene packs from Maureen for completing the Mighty Mouth Programme.
Healthy Drinking!
A big thank-you to parents who offered to come in and make different smoothies, using lots of different fruits.  This year (2018), the Health Promoting Schools Team surveyed children to find out the most popular drinks being taken to school.  Diluted Juice was found to be very popular and the amount of water being consumed had reduced!  They decided to look at popular drinks and focus on the sugar levels in them  to highlight how much hidden sugar they actually contain!
The Importance of Water!
As a result of our recent lunch box survey (September 2019), we have noticed that some children continue to take diluted drinks to school. Our Health Promotion Committee, created a Drinks Sugar Display Board to show how much sugar are in the most popular drinks.  See a picture of this below!  They also talked to classes about the importance of drinking water!  Some of these advantages can also be seen below.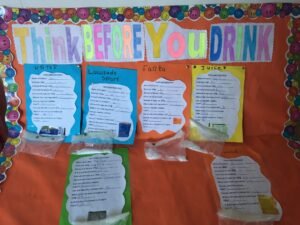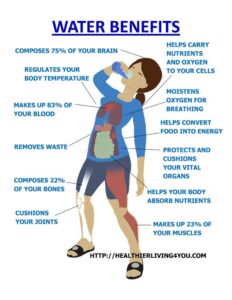 Some useful websites around the area of Healthy Eating include:
www.healthyireland.ie

https://www.fsai.ie

www.safefood.eu
Year 2 of Our Health Promoting Schools Campaign
In year 2 (2017-2018)of our Health Promoting Schools Initiative we commenced and have been working hard since, focusing on incorporating physical activity into our school day. Not only is this part of our overall aim to promote health among everyone here in our school but we also hope to obtain an Active Flag to recognize our efforts!  A small selection of our active flag initiatives can be viewed below. Lots more of our Active Flag Activites can also be viewed on our Active Flag Page dedicated to our Active Flag Campaign. We have an Active Flag Team made up of our pupil body who are integral in leading many of the activities in our Active Flag Campaign!

Our Active School Team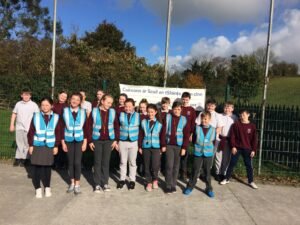 Active Breaks
Active Breaks, involve the children dancing and participating in various busy break activities, which promote physical activity.  Some of these examples include, Just Dance, Go Noodle Dance, Busy Breaks and 10@10 challenges. Children also do various exercises after each break for 10 seconds (Active Lines led by our Active Leaders) , before entering the school.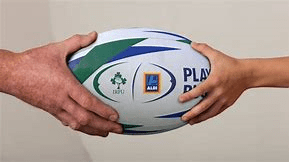 Our senior boys took part in the Aldi Rugby this year. Dedication, hard work and good team play under the guidance of their coaches, certainly had its reward. The boys successfully made it through all rounds of the competition and the ultimate success lay in the team being chosen to play in the Aviva Stadium on 26th April. The highly esteemed Paul O'Connell was present to greet the team and their supporters! This was an astonishing achievement for the boys together with their coaches, families and the school that will be held in high regard for many years to come.
Meet our Mascot Cormac who likes to take part in activities along with our children both at home and at school!  Children get the chance to take Cormac home and take a photograph with him doing something active. They then write about their activity alongside their photograph in Cormac's Journal.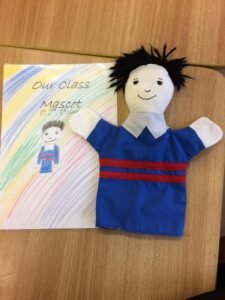 Active Schools Week 23rd-27th April 2018-
Look at the things we got up to on our Active Flag Page!!
Halloween Themed Active Event October 2018-
Look at the things we got up to on our Active Flag Page!!
Some useful websites around the area of Physical Health include:
www.healthyireland.ie
https://www.hse.ie/…/list/1/lho/cavanmonaghan/healthyfamilies
www.activeflag.ie
Year 3 of Our Health Promoting Schools Campaign
In year 3 (2018-2019), we have decided to focus on promoting mental health among our pupils and staff.  Already we marked the importance of friendship, by planting a friendship tree on National Tree Day on October 4th 2018.  We will use this tree to represent the importance of friendship in our school.  We are also appreciative of the commitment of parents in commencing and maintaining a friendship garden for our school.  In the future we also hope to purchase a 'buddy bench' and to add some picnic tables to our garden, in keeping with the theme of  friendship.   As a staff we have engaged in anti-bullying workshops with Sean Fallon to give us a better understanding of bullying.   The aim of these workshops is to  enable us as teachers to equip children with the skills to recognize bullying and have the skills to deal with it should it arise.  Teachers in the school continue to engage with C.P.D. (continuous professional development) courses (for example Friends for Life and Fun Friends Programmes), which continue to enrich their knowledge of how to promote mental health and well being among our entire school body.


Our Friendship Garden –
A Fabulous Work in Progress!
Today (4th December 2018) Children from the Senior Room, helped plant some trees in our garden.  Every pupil then had the opportunity to place their name on a tree.  This is to symbolize that each and every pupil in this school is important and together everyone of them will grow in friendship and love.  Well done to everyone on your efforts to date. Looking good so far!  Watch this space!
Friendship Slogan and Friendship Poem Competition!
Friendship Slogan and Friendship Poem Competition!
To further encourage friendship and its importance in our school (as part of our Mental Health and Well-being Initiative), we held a 'Friendship Slogan' and 'Acrostic Poem' Competition. This was to encourage children to think about friendship and what a 'good friend' is.
We had lots of fantastic entries!  Our chosen poem and slogans that represent the meaning of friendship can be seen below. Well done to all of the children that entered!
'Friendship'
by Joseph Boylan
F

riendship is caring,
R

especting others!
I

think friendship is nice.
E

verything about friendship is nice.
N

othing can break up friendship.
D

on't let anyone bully you!
S

tep up if your friends are getting bullied.
H

elping others is friendship.
I

like to play with my friends.
P

lease don't be nasty to people and get more friends.
Friendship is …
by Ella Hughes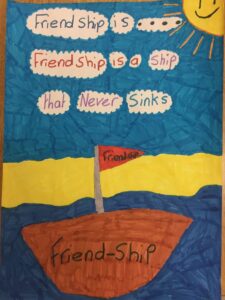 Friendship is …
by Millie McCartney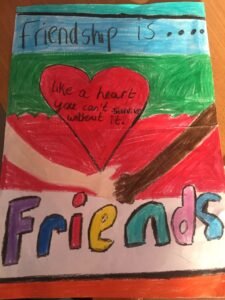 World Mental Health Day
World Mental Health day is celebrated every year and this year in school, we focused in particular on mental health among our pupils.  We incorporated mental health lessons into our teaching on each day of this week!
We used child appropriate  lessons to teach children about the importance of looking after their mind, just the same as they would look after any other part of themselves if it was unwell.  The children enjoyed learning about their feelings and emotions and finding out some techniques for dealing with 'negative' feelings they encounter as part of their everyday lives!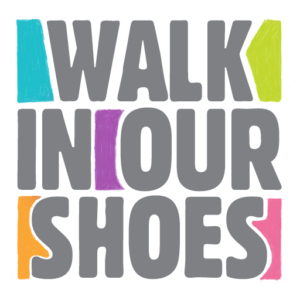 We also listened to and learned about how real people (both adults and children) deal with difficult feelings.  The website https://walkinourshoes.org. was used to explore these feelings. The children were interested to find out that everyone experiences 'negative' feelings sometimes and that this is perfectly normal.  We also talked about different ways we may find useful to help us deal with our emotions.
Healthy Living and Mental Health!
We held a design competition which encouraged children to design a poster incorporating a healthy living motto.  Congratulations to Kiva Martin who designed what I'm sure everyone would agree is a perfect Active Motto for our school to follow!  We also use our WOW WALL to recognize children's achievements both within school and also outside of school!  This wall is an excellent way of encouraging both physical and mental wellbeing in our pupils!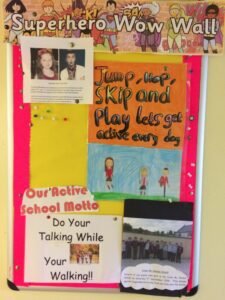 All-Ireland Success!
Congratulations to Eva, Isobel and Grace who took part in the All-Ireland Variety Show in Traboolgan, County Cork on Sunday 24th March 2019. The girls took home numerous trophies and came first place overall as part of the 'Born to Perform' stage school.
We are super proud of the three girls!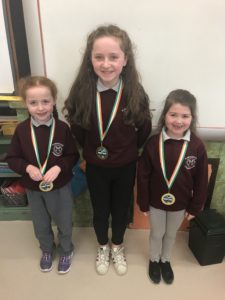 Wellness Wednesday – Covid-19
During our school closure due to Covid -19, we as a staff were very conscious of the impact the virus was causing on our students and whole school community.  As both a Health Promoting School and Active School, we decided to introduce an initiative called Wellness Wednesday to support children and families in maintaining fitness and mental health!  Each Wednesday, children and their families were encouraged to get active by choosing an activity from the list of Wellness Wednesday activities provided or doing something active of their own.  See below some of the activities our pupils and families got up to!
Also as part of Wellness Wednesday, we introduced Zoom P.E., were staff, pupils and their families got active each Wednesday by partaking in fun games and exercises, guided by an online coach! To mark the end of our school year, we even held a Zoom Sports Day – which everyone really enjoyed.