On Friday 30th November 2018, Annie, Molly and Maggie were graded in kickboxing. Annie received her brown belt, Molly received her purple belt and Maggie received her green belt.
Annie and Molly then had a kickboxing fight on Sunday 2nd December, with Annie receiving a silver medal and Molly receiving a bronze.
The girls attend kickboxing classes in Carrickmacross every week and have made fantastic progress over the past few years.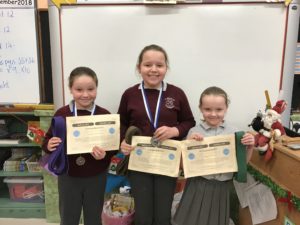 Well done girls!