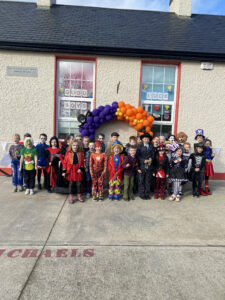 HAPPY HALLOWEEN FROM FIRST AND SECOND CLASS!
This week we have been busy learning about Halloween Safety, Halloween Traditions, singing Halloween songs in both Irish and English and reciting Halloween Poetry. We had great fun making our own SPOOKTACULAR SPIDERS and AMAZING MASKS too.
We all had FANGTASTIC FUN on Friday when we showed off our talents at our Whole School Assembly. We got to display  our Halloween Costumes, as we danced, all in support of Temple Street Children's Hospital.